Jamaica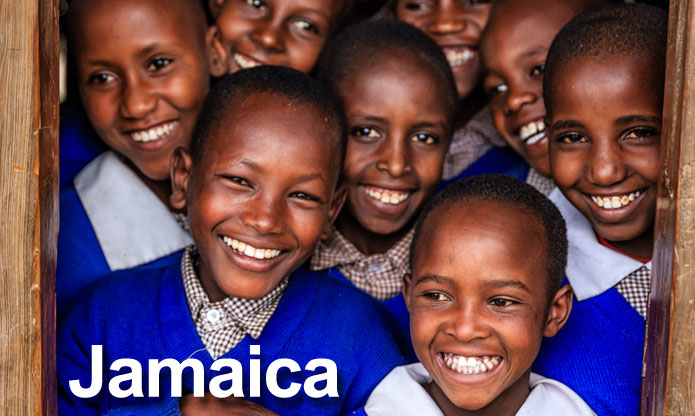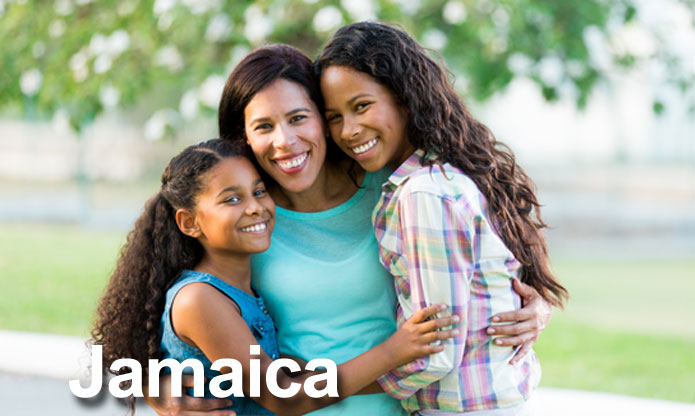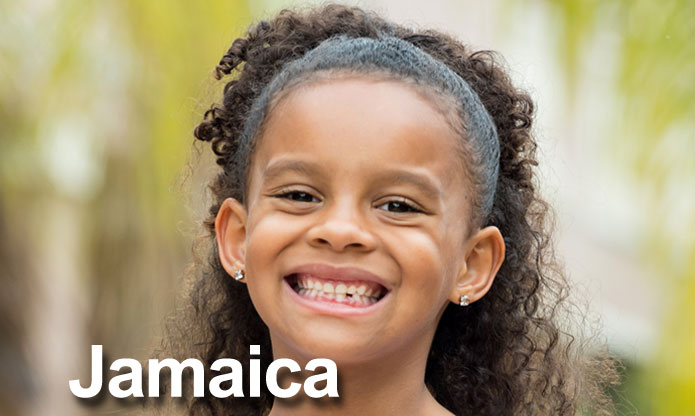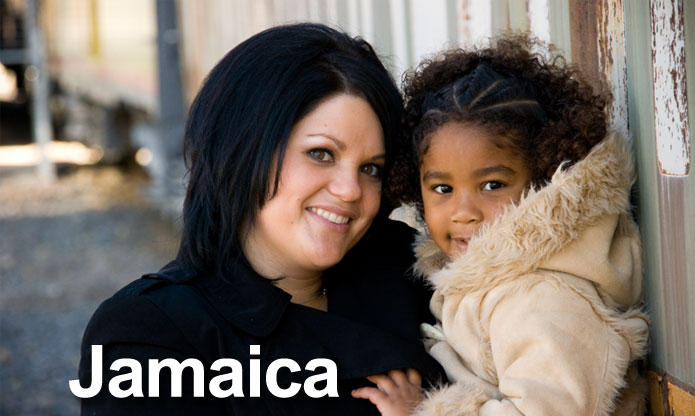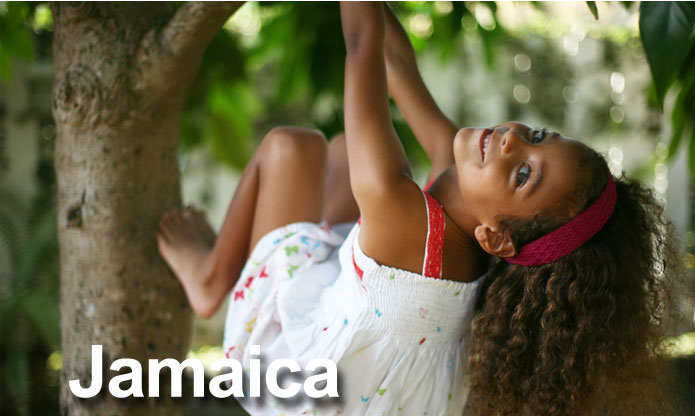 Jamaica Adoption Program
Children's House International is excited to announce the opening of our waiting child program in Jamaica. The Adoption Board is the only body that can approve adoptions in Jamaica. The Child Development Agency (CDA) prepares and processes all applications, and presents it to the Adoption Board for their approval. CHI represents waiting children from Jamaica that are referred to us from the CDA. Even though we have no employees in Jamaica our trained staff is ready to make your adoption process as smooth as possible.
There are two ways to adopt from Jamaica:
 Adoption Order, means your adoption is full and final in Jamaica.
 Adoption License, means you bring your child home on a guardianship and complete the full and final adoption in the U.S.
We're currently only accepting families who wish to adopt one of the waiting children whose information we have received from the CDA. At this time, we do not accept families into our program who wish to submit a dossier and wait for a referral or kindship adoptions. If you have any questions, please contact CHI. We are happy to answer your questions.
Why Children's House International?
We value the relationships we cultivate with our families. Each staff member strives to create a bond of trust with each and every family. Adoption is an emotional, exciting and personal journey. We want to be there cheering in times of excitement and help you in times of stress. For over 40 years, Children's House International has had programs worldwide and acquired experience in International adoption. Our International Specialist has been working in Latin America for over 20 years. CHI has been working with international adoptions since 1975. We have over 100 years combined experience with our staff in the international child placement field. Many of our staff has adopted children internationally. We have a passion for helping children find homes. There are a lot of good people working in adoption.
What makes CHI different?
We give attention to detail – we'll be spending hours on the telephone and communication through email with Jamaica while you prepare for your new child with pre-adoptive education and discussions with our CHI staff. We'll assist you with your paperwork so the adoption process goes as smoothly as possible. We will be there to answer your questions and concerns. We value efficiency and good communication. Our goal is to answer your questions as quickly and as soon as possible. Our staff will point you in the direction of useful resources to help in your planning – from books resources to qualified specialists in international adoption. And when it comes time to travel, we'll assist you with all the information you need to make your trip both successful and pleasurable. Our goal is to make your adoption experience as smooth as possible. Children's House International is proud of its reputation and experience internationally. We would be happy to answer all your questions.
Adoption Forms and Fees
To begin your adoption journey please contact the main office so the application paperwork can be sent to you today. For more information including review our application, agency retainer agreement, financial agreements, and statistical information on: the number of adoption placements per year for the prior 3 calendar years, the number of placements that remain intact, the number of families who apply to adopt each year, and the number of waiting children eligible for adoption, click here.
Adoption Process
The steps below give a quick overview of what is required:
Complete an intake call with the International Specialist
Complete a CHI application that will be emailed to you through DocuSign
 Complete an application from the CDA website
Begin your Homes Study. If you live in Washington, Utah, Louisiana, Massachusetts, Texas or Florida a CHI social worker will complete your home study. If you live outside these states, we will help you find a local agency
File the I-600A with U.S. Citizenship and Immigration Services (USCIS). This approval is one of the requirements in order for you adopted child to obtain a visa and be able to enter the U.S.
Complete the second application from the CDA, this application will be sent with your Dossier
Gather Documents (Dossier) and send it to CHI. Your case manager will review to make sure everything is in order before shipping it to the Adoption Board
After the Adoption Board has approved your Dossier you will be eligible for a referral
Children in Jamaica
We receive information on available children from the CDA and post them on our waiting child list. They typically range from 6 to 9 years old and will be developmentally delayed and may have a physical special need. The children may be in foster homes or orphanages. Once you complete the steps listed under 'Adoption Process' and accept the official referral, you can expect to travel 4-6 months later.
Parent Requirements
PAP must be 15 years older than the adopted child
Heterosexual couples 25 and older
Singles can adopt (Men must adopt males)
One parent must be a US Citizen
Adoptive parents over the age of 55 will need an intake interview by a CHI social service staff
There is no minimum income required. However, adoptive parents must satisfy state and
home study agency requirements, as well as meet the income requirements provided by
USICS – for income requirements CLICK HERE
Approved Home Study
An approved home study, must be completed by a COA Hague accredited agency, will ensure that all of the Georgian requirements for families are met during the home study process. The home study begins with adoptive parent education and a thorough evaluation of your family that will include several background clearances, medical evaluations and financial stability. Your home study is the foundation on which USCIS and in country approvals for international adoption are based. They enable adoptive parents to learn, reflect, and prepare for parenting. It involves opening your hearts, minds, and home to a social worker through a series of meetings and gives you the opportunity to ask all the questions you may have as well.
Completed Dossier
CHI will assist you with a list of documents that you must prepare which will be sent to Georgia to be registered to begin the process in the country. We are happy to answer your questions regarding this process.
USCIS Immigration Approval
USCIS immigration I-600A approval is required to adopt from Jamaica (this includes an FBI fingerprint result). This approval begins the CIS process which will ultimately allow your newly adopted child to receive a VISA from the US Embassy and enter the US..
Travel Process
There are two ways to adopt from Jamaica, Adoption License or Adoption Order.
Adoption Order (Final in country) 4 months stay in country
Adoption License (Guardianship) 2 trips for 10 days each with 3-4 months in between
Waiting Children
We receive information on available children from CDA and post on our waiting list. They typically range from 6 to 15 years old.
For more information on waiting children please contact our Case Manager, Carmina Alemar at: carmina.a@chiadopt.org
Country Facts
The island – discovered by Christopher Columbus in 1494 – was settled by the Spanish early in the 16th century. The native Taino, who had inhabited Jamaica for centuries, were gradually exterminated and replaced by African slaves. England seized the island in 1655 and established a plantation economy based on sugar, cocoa, and coffee. The abolition of slavery in 1834 freed a quarter million slaves, many of whom became small farmers. Jamaica gradually increased its independence from Britain. In 1958 it joined other British Caribbean colonies in forming the Federation of the West Indies. Jamaica gained full independence when it withdrew from the Federation in 1962. Deteriorating economic conditions during the 1970s led to recurrent violence as rival gangs affiliated with the major political parties evolved into powerful organized crime networks involved in international drug smuggling and money laundering. Violent crime, drug trafficking, and poverty pose significant challenges to the government today. Nonetheless, many rural and resort areas remain relatively safe and contribute substantially to the economy.
Jamaica Facts
Information taken from: The World Factbook: Jamaica
Location: Caribbean, island in the Caribbean Sea, south of Cuba
Climate: tropical; hot, humid; temperate interior
Natural Resources: bauxite, gypsum, limestone
Population – population density is high throughout, but increases in and around Kingston, Montego Bay, and Port Esquivel
Natural hazards: hurricanes (especially July to November)
Population: 2,970,34 0 (July 2016 est.)
Religion: Protestant 64.8%