Haiti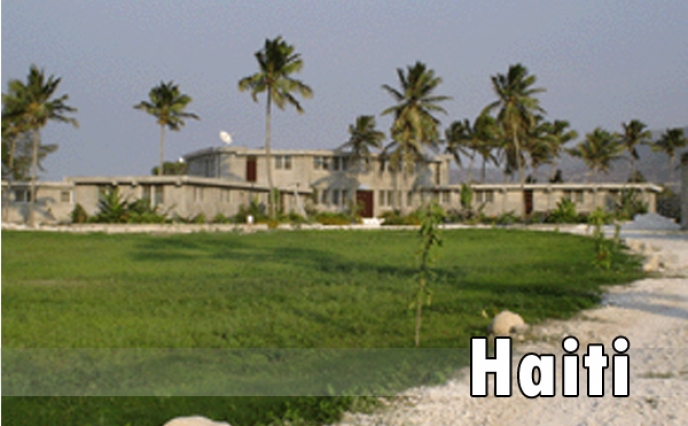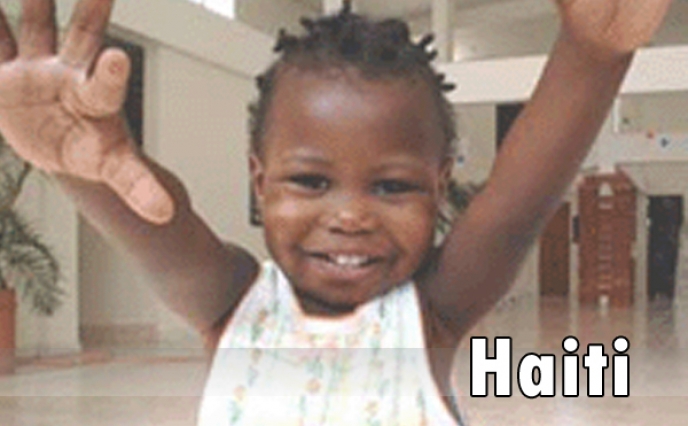 Note: None of the children seen on this page are available for adoption.
Children's House International is currently not accepting new families for our Haiti Adoption Program
Our Haiti Adoption Program
We are happy to announce that new applications for families wanting to adopt from Haiti are being accepted!
January 17, 2013, Update!! – We are pleased to announce that Children's House International is one of the select number of U. S. adoption agencies approved to continue helping the children of Haiti! This approval and comes after a long wait as the Haitian government completes the necessary changes in order to convert their system to Hague Convention standards for international adoption.

Haiti's adoption authority l'Institut du Bien-Etre Sociale et de Recherches (IBESR) confirmed that the Haitian Parliament approved the ratification of the Hague Adoption Convention on June 11, 2012. Haiti is in the process of passing a new adoption law that will comply with the standards required by this Treaty. Once the new law is passed (which could be a few months from now), Haiti will officially deposit it's instrument of ratification to the Convention with the Hague in the Netherlands. Three months from that date, the Convention will enter in to force in Haiti. The Haitian government is in the process of improving new procedures in anticipation of this change.
Children's House prides itself on providing a personalized service and will be available to help you, whether it is for gathering documents, filling out forms or giving advice and support. Thanks again for your interest!! If you have any questions or would like additional information
Adoption Process – Haiti
Once you have decided to adopt you will be anxious to get started with the paperwork part of the process. Steps to an International Adoption From Haiti:
Complete the Family Profile Form and return it to CHI. Once our team reviews and approves your application, you will proceed with the following steps.
Send CHI your completed Application and Application Fee, along with your signed Agency Retainer Agreement, Financial Disclosure Agreement, and all other contractual forms downloaded from the CHI document site.
Begin your Home Study; take Adoption Education Courses and read suggested educational materials. If you live in Washington, Utah or Florida, a CHI social worker will complete your home study. If you live outside these states, we will help you find a local agency social worker to prepare your home study. Because Haiti will soon become a member of the Hague Convention on International Adoptions, a home study completed by an agency who is Hague accredited is required. The social worker completing your home study will visit you and your family, conduct thorough interviews, education your family on adoption issues, review the required paperwork (birth certificates, marriage license, divorce decrees, etc) and then prepare a detailed report. These reports are typically between 7-10 pages in length.
File the I-600A with USCIS. Once your home study is complete, you will file form I600A, along with other supporting documents with U.S. Citizenship and Immigrations Services (USCIS). During this process, which typically takes 2 months from start to finish, you and your spouse will be fingerprinted through the FBI and the home study and other documents will be reviewed by USCIS. Your approval (an I171H) will be mailed to you. This approval is one of the requirements in order for your adopted child to obtain a visa and be able to enter the U.S. Also, if you don't already have them, obtain your Passports.
Gather Dossier documents and forward Dossier to CHI. The dossier is a collection of all the required paperwork for your adoption file that Haiti will review. CHI will send you detailed instructions on dossier preparation at the beginning. This can take anywhere from several weeks to months to compile.
Child referral. Once your file is approved by our team and a child who fits your home study approval is on our system, you will be provided with photos, medical information, social history and narratives about them. Based on this information and the advice of your social worker and medical consultants, you will accept or decline the referral.
Once the referral of a child is accepted our legal team will oversee every step of the adoption process in Haiti as it moves through the civil and higher courts, IBESR other Haitian government offices, and the U.S. Embassy. Your child's status and health reports from the crèche are sent to us every 6-8 weeks.
You will be required to travel 2 times to Haiti. The first trip for both parents will be to meet your child; attend a court appearance and file the I600 form at the Embassy. Both adoptive parents will need to visit the child before the adoption is final in order for their child to have automatic U.S. citizenship when they enter the U.S. after the adoption.
And the final second trip, most rewarding step will be after you receive the notice that your child's visa is ready and you are ready to travel to Haiti to bring them home! The two trips average about 5-7 days each. We encourage families to visit their children several times during this process.
Children Waiting For Families in Haiti
0 to 6 years old (Most children are around 3 years old)
Sibling Groups
Waiting… waiting… waiting… why are these children without families? They are available for international adoption for many reasons. This is most often due to their birth families inability to parent based on poverty. Poverty worldwide creates the need for international adoption, but it is not the only reason.
Education is another common factor. In many countries, birth control is not widely offered nor is it taught in the family, community or in school. Birth mothers also can lack education on how to parent a child or have the capability to earn a living wage to support the child. So education can play a large part in children becoming available for international adoption.
In some situations, when a birth mother does become pregnant she may be shunned by both her family and her community. Many times this leads to desperate situations that force a birth parent to either abandon or relinquish their child.
Sadly, there are other factors that create orphans, war, worldwide famine, drought and in some countries the AIDS epidemic have also created a need for adoptive parents.
Adoptive Parent Requirements
While your adoption journey may begin today, adoptive parents should understand that adoption is a lifelong commitment. A successful home study plays a vital role in helping on your preparation to become adoptive parents. Our trained and caring professionals' respect your confidentiality was we work together to educate and create an accurate portrait of you as future adoptive parents. The home study is an invaluable first step toward parenthood.
Approved Home Study
If you live in Washington, Utah or Florida, a CHI social worker will complete your home study. If you live outside these states, we will help you find a local agency social worker to prepare your home study. Because Haiti will soon become a member of the Hague Convention on International Adoptions, a home study completed by an agency who is Hague accredited is required. It takes approximately two months to complete your home study, maybe a little longer. Some states have more requirements than others. One post placement report from your social worker will required when you return home with your child. More may be required depending on the laws of your state.
The home study begins with adoptive parent education and a thorough evaluation of your family that will include several background clearances, medical evaluations and financial stability. Your home study is foundation on which USCIS and in country approvals for international adoption are based. They enable adoptive parents to learn, reflect, and prepare for parenting. It involves opening your hearts, minds, and home to a social worker through a series of meetings and gives you the opportunity to ask all the questions you may have as well.
USCIS Immigration Approval
USCIS (United States Citizenship & Immigration Services) immigration approval is required for all international adoptions (this includes an FBI fingerprint results). This approval allows your newly adopted child to receive a VISA from the U.S. Embassy and enter the U.S. and become a citizen.
Haiti Adoptive Parent Requirements
Positive steps are being taken by the Haitian Parliament to change the 1974 adoption law. On August 29th, they voted in support of this change and it is expected to come in to force in a few months.
This is a summary of the new Adoptive Parent Qualifications:
Married (or co-habiting) couples of at least 5 years. (One parent must be between 30 and 50 years old and the younger of the two must be at least 30 years old.)
Single women who are between 35-50 years old.
Families may have any number of biological and adopted children.
Please note that Haiti will not permit same sex couples to adopt.
All Families with interest in entering this program must first fill out and submit a Family Profile Form. This form will be reviewed by our team to make sure that a family will qualify for this program.
Travel Process
Travel:
Two trips to Haiti are needed.
The first required trip, besides visiting their child, is for both adoptive parents to appear at the Parquet (court), once the file has been approved by Haitian Social Services (IBESR). Also at this time families will file the I600 form at the U.S. Embassy. Both adoptive parents will need to visit the child before the adoption is final in order for their child to have automatic U.S. citizenship when they enter the U.S. after the adoption.
The second and final trip is to pick up the child. One or both of the adoptive parents will need to return at the end of the process to complete the visa process at the U.S. Embassy. During this trip the adoptive parents should plan on spending 5 or 6 days in Haiti for an appropriate transition. This allows the child to get comfortable with his/her new family in a setting that is more familiar to them.
Since the process is a lengthy one, many adoptive families visit their child several times during this wait.
Generally, adoptive families visit their children in groups. The travel arrangements for these visiting groups are organized by CHI and Chances for Children. They meet in Miami and travel to Haiti together. Because of the extreme poverty, there will be no opportunities to sightsee within Haiti. Families stay at the C4C Guest House in Fermathe, about 15 minutes from the crèche. Families may bring other children who are over 10 years old on visit trips, except for the first trip. Due to the dangerous situation in Haiti, families are escorted at all times they are outside of the crèche grounds.
Kinship Adoptions
The January 12, 2010 earthquake that struck Haiti has left countless children orphaned or abandoned.
CHI assists with kinship adoption for those family members seeking to adopt their younger siblings, nieces, nephews and grandchildren to provide them with the nurturing and permanency they need and deserve. We can help you!
Guilane Victor -Adam is our Kinship Placement Coordinator and has a wealth of experience in this process. She speaks French and Kreyol fluently, understands the Haitian culture and has extensive experience working with Haiti.
The Haitian law treats interfamilial adoption (kinship), as a regular international adoption, as does the U.S. However, from a legal standpoint, it differs in that the adoptive family will not need to be matched with his/her own relatives by IBESR, and in cases where the child and family share the same last name, there will be no name change. The dossier follows the exact same principles as a regular adoption and the visa process is the same.
If you have any questions, please contact us at: inquiry@chiadopt.org
Country Facts
(From CIA Fact book updated 2012)
Background:
The native Taino Amerindians – who inhabited the island of Hispaniola when it was discovered by Christopher COLUMBUS in 1492 – were virtually annihilated by Spanish settlers within 25 years. In the early 17th century, the French established a presence on Hispaniola. In 1697, Spain ceded to the French the western third of the island, which later became Haiti. The French colony, based on forestry and sugar-related industries, became one of the wealthiest in the Caribbean but only through the heavy importation of African slaves and considerable environmental degradation. In the late 18th century, Haiti's nearly half million slaves revolted under Toussaint L'OUVERTURE. After a prolonged struggle, Haiti became the first black republic to declare independence in 1804. The poorest country in the Western Hemisphere, Haiti has been plagued by political violence for most of its history. After an armed rebellion led to the forced resignation and exile of President Jean-Bertrand ARISTIDE in February 2004, an interim government took office to organize new elections under the auspices of the United Nations. Continued violence and technical delays prompted repeated postponements, but Haiti finally did inaugurate a democratically elected president and parliament in May of 2006. A massive magnitude 7.0 earthquake struck Haiti in January 2010 with an epicenter about 25 km (15 mi) west of the capital, Port-au-Prince. Over 300,000 people were killed and some 1 million left homeless. The earthquake was assessed as the worst in this region over the last 200 years.
Population:
9,801,664 (July 2012 est.)
Note:
estimates for this country explicitly take into account the effects of excess mortality due to AIDS; this can result in lower life expectancy, higher infant mortality, higher death rates, lower population growth rates, and changes in the distribution of population by age and sex than would otherwise be expected.
Infant mortality rate:
Total:
52.44 deaths/1,000 live births
Country comparison to the world:
41
Male:
56.47 deaths/1,000 live births
Female:
48.37 deaths/1,000 live births
Note:
The preliminary 2011 numbers differ significantly from those of 2010, which were strongly influenced by the demographic effect of the January 2010 earthquake; the latest figures more closely correspond to those of 2009 (2012 est.)
Life expectancy at birth:
Total population:
62.51 years
Country comparison to the world:
184
Male:
61.15 years
Female:
63.89 years
Note:
The preliminary 2011 numbers differ significantly from those of 2010, which were strongly influenced by the demographic effect of the January 2010 earthquake; the latest figures more closely correspond to those of 2009 (2012 est.)
Economy – Overview:
Haiti is a free market economy that enjoys the advantages of low labor costs and tariff-free access to the US for many of its exports. Poverty, corruption, and poor access to education for much of the population are among Haiti's most serious disadvantages. Haiti's economy suffered a severe setback in January 2010 when a 7.0 magnitude earthquake destroyed much of its capital city, Port-au-Prince, and neighboring areas. Already the poorest country in the Western Hemisphere with 80% of the population living under the poverty line and 54% in abject poverty, the earthquake inflicted $7.8 billion in damage and caused the country's GDP to contract 5.4% in 2010. Following the earthquake, Haiti received $4.59 billion in international pledges for reconstruction, which has proceeded slowly. Two-fifths of all Haitians depend on the agricultural sector, mainly small-scale subsistence farming, and remain vulnerable to damage from frequent natural disasters, exacerbated by the country's widespread deforestation. US economic engagement under the Haitian Hemispheric Opportunity through Partnership Encouragement (HOPE) Act, passed in December 2006, has boosted apparel exports and investment by providing duty-free access to the US. Congress voted in 2010 to extend the legislation until 2020 under the Haiti Economic Lift Program Act (HELP); the apparel sector accounts for about 90% of Haitian exports and nearly one-tenth of GDP. Remittances are the primary source of foreign exchange, equaling nearly 20% of GDP and more than twice the earnings from exports. Haiti suffers from a lack of investment, partly because of limited infrastructure and a lack of security. In 2005, Haiti paid its arrears to the World Bank, paving the way for reengagement with the Bank. Haiti received debt forgiveness for over $1 billion through the Highly-Indebted Poor Country initiative in mid-2009. The remainder of its outstanding external debt was cancelled by donor countries following the 2010 earthquake but has since risen to over $600 million. The government relies on formal international economic assistance for fiscal sustainability, with over half of its annual budget coming from outside sources. The MARTELLY administration in 2011 launched a campaign aimed at drawing foreign investment into Haiti as a means for sustainable development.
Current Weather
tropical; semiarid where mountains in east cut off trade winds
Natural hazards:
Lies in the middle of the hurricane belt and subject to severe storms from June to October; occasional flooding and earthquakes; periodic droughts
Environment – current issues:
Extensive deforestation (much of the remaining forested land is being cleared for agriculture and used as fuel); soil erosion; inadequate supplies of potable water
Geography – note:
Shares island of Hispaniola with Dominican Republic (western one-third is Haiti, eastern two-thirds is the Dominican Republic)
Executive branch:
Chief of State: President Michel MARTELLY (since 14 May 2011) Head of Government: Prime Minister Laurent LAMOTHE (since 16 May 2012) cabinet: Cabinet chosen by the prime minister in consultation with the president (For more information visit the
World Leaders website
) Elections: President elected by popular vote for a five-year term (may not serve consecutive terms); election last held on 28 November 2010; runoff on 20 March 2011 (next to be held in 2015); prime minister appointed by the president, ratified by the National Assembly. Election Results: Michel MARTELLY won the runoff election held on 20 March 2011 with 67.6% of the vote against 31.7% for Mirlande MANIGAT.
Natural resources:
bauxite, copper, calcium carbonate, gold, marble, hydropower
Agriculture products and Industries:
coffee, mangoes, sugarcane, rice, corn, sorghum; wood sugar refining, flour milling, textiles, cement, light assembly based on imported parts